Do you dream of a successful business? Whether you're a fledgling influencer, personal brand, or business, establishing a strong social media presence is non-negotiable.
You need an audience to sell to, and the best way to build your cult following is to create quality social media content.
There is only one small problem.
You don't know where to start or how to handle the workload that comes with maintaining a consistent social media presence.
Let's dive into our top tips to set you up for social media success and reveal the secrets to creating top-notch content.
1. Give your audience valuable content
hard truth: No one will follow you or buy your products or services unless you give them a compelling enough reason.
And the reason? What's in it for them?
Whether typing a caption or setting up a story, always ask yourself, "How does this benefit my audience?" ".
If you're not entertaining, inspiring, or educating, go back to the drawing board. Dig deep into those audience pain points and your analytics to create high-quality content that resonates and adds value to someone's day.
2. Know your target audience
You can't create valuable, shareable, saveable content unless you have a perfectly clear audience.
By taking the time to clearly define your audience and who you are targeting, you can ensure that every post you share is personalized, compelling and compelling.
Your content becomes magnetic when you speak to a specific group of people.
When these people crave your content and your profile as a whole is made for them, you've struck social media gold.
How do you determine your "niche"? Start with the topic you want to be known for or the problem you want to solve. For example, a luxury solo traveler or teaching millennials how to invest.
From there, start experimenting. See what resonates and sticks with your audience and use it as a niche light.
This brings us to the next tip…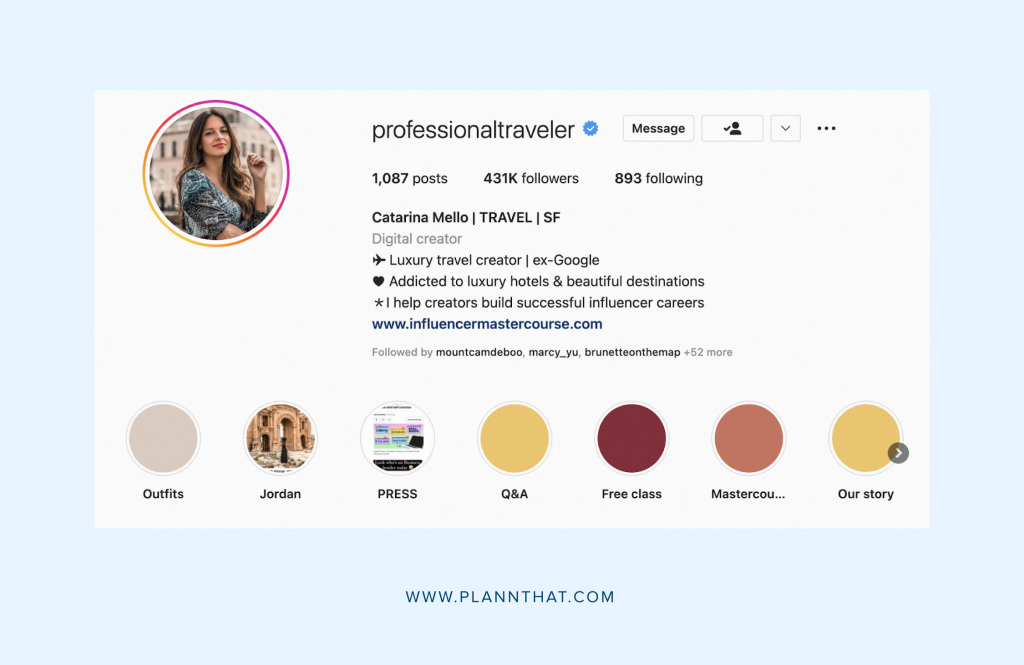 3. Give people what they want
How often do you carefully review your social media analytics? If you're like most people, probably on a very ad hoc basis.
To make an impact on social media (and keep content creation from feeling like an endless hamster wheel), you need to become best friends with your ideas.
Open your Instagram now and follow these steps:
• Go to "Content You've Shared" and browse each section for Stories, Reels, Post, Video, and Live.
• Filter your period by the last 3 and 6 months.
• Filter your statistics by impressions, reach, plays, saves and shares.
Watch your most popular content. Are there common threads? Is there a particular subject or color palette that resonates with your audience?
Next, look at your least popular pieces of content. What are the common threads here? Are your photos of poor quality or your captions lacking in substance?
Ps want a super easy way to track the performance of your content on social media? Sign up to Plann for in-depth Instagram insights that will take your content from good to great.
After doing this exercise, you will have a very clear idea of ​​what content resonates with your audience. Once you know that, you can focus on creating more.
4. Create content in batches and save time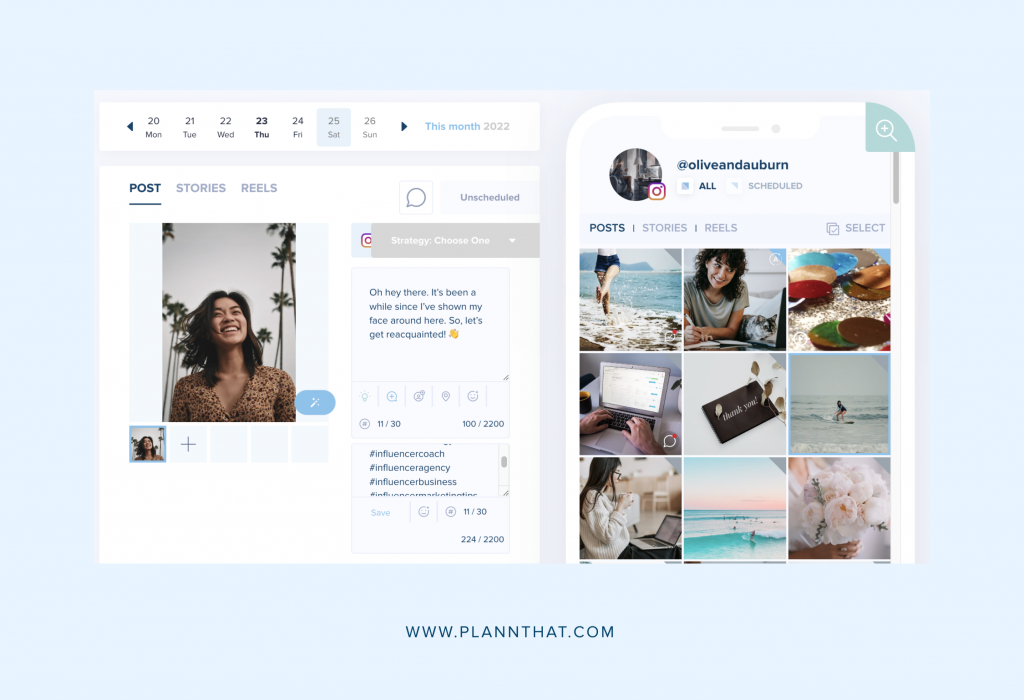 If you want to create high-quality content, you need to find a system that supports your goal. One of the best solutions? Create your content in batches.
This content creation workflow begins by determining your content pillars or compartments. Need help?
Create a Plan accountclick on "Strategy", select "Content Prompts" and find stacks of content pillars and prompts relevant to your niche.
Don't like any of the prompts? Throw it all away and create your own!
Now that you have a rough idea of ​​the topics you want to talk about, it's 100 times easier to activate your social media content strategy brain.
Sit down and plan a "filming" day where you'll take photos and film clips for Reels and TikTok. Then set aside time to edit and upload all your content to Plann.
Finally, move on to batch writing your captions and scheduling your stories, posts, and reels to release at the best time for maximum engagement.
And There you go ! You create top-notch content…consistently!
5. Take pictures
You don't need a fancy DSLR to create high-quality videos and photos.
Get in the habit of wiping down your smartphone before you start filming.
This will instantly take your content from an unintended 90s throwback to videos and photos that scream, "Look at the world, I'm a professional."
One last piece of equipment advice, invest in a tripod. It doesn't have to be expensive, and you can even opt for something discreet like a GorillaPod. Whatever you decide will go a long way in capturing high-quality content.
No more trembling sequences or in precarious balance on a rock!
6. Ask for the sale (in a non-commercial way)
Ok, so what does that even MEAN? !
It means that we are highly evolved creatures. We see an ad on a billboard and block it instantly. A distribution in a magazine? Not even an echo on the radar.
How do you cut out all the advertising noise? By appealing to people's emotions, pain points and the ultimate transformation or end goal.
Imagine it this way. If you yell, "Buy my stuff!" to someone every day, you will only annoy them.
But what if you use storytelling, show your audience how you overcame a similar problem, build trust, use social proof, and then ask for the sale?
Cha Ching!
Start creating quality social media content
Create a free Plann account and stop procrastinating. Nip your bad social media habits and excuses in the bud and use features like content prompts made for you and one calendar with post ideas so you never run out of post ideas again.